Shipping Information
U.S. Orders:
HollywoodFetishwear.com ships all orders via UPS or USPS Priority Mail for deliveries within the 50 United States. Orders shipping to a Military base, Alaska, or Hawaii normally ship US Postal Service.

All of our orders leave the warehouse within the next business day after you order. Orders placed after 2:00pm EST will be shipped the following business day. You will receive an e-mailed tracking number when your order is shipped.

During heavy shopping seasons, it may take up to two days to leave the warehouse.

According to the United States Postal Service (USPS), Priority Mail, the expected delivery time is approximately 3-7 days (including Saturdays).

According to standard UPS Ground shipping times, depending on your location and the volume being handled by UPS at the time, is from 3-7 business days within the USA, longer for international.
Shipping Policy
Shipping time and available methods:

US Customers:
·  USPS Parcel Post (2-9 days estimate)
·  USPS Priority Mail (2-3 days estimate)
·  USPS Express Mail (1-2 days estimate)
Our orders are shipped from our primary location in San Diego, CA.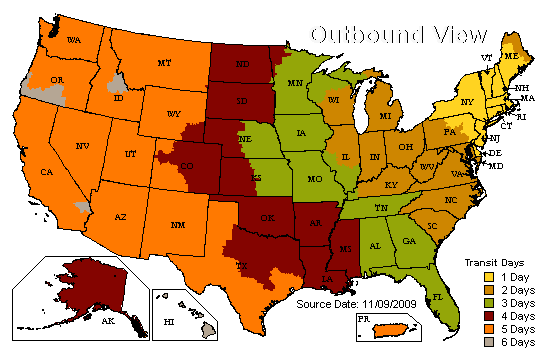 Please make note: UPS does not deliver on Saturday, Sunday, or Holidays. When figuring your delivery time, remember, Saturdays, Sundays, Holidays AND the day you placed your order DO NOT count as days in transit!
If time is an issue, you can receive your order overnight via Federal Express or USPS Express Mail. (USPS DOES deliver on Saturdays.) We know that quick shipping is the key to customer satisfaction and repeat orders. At HollywoodFetishwear.com we want to satisfy you, and we will make sure we get your order to you as efficiently and timely as possible.

USA Shipping and Handling Charges

Per Item Shipping………………………………$4.00
(each item shipped individually packaged)

Packages shipped outside of the USA $18.00 Flat Rate

(We do not ship to Indonesia or Nigeria)

Overnight Shipping
For overnight shipping, you must select only in-stock items and you must order before 12:00 NOON, USA Eastern Time, Monday through Friday. (Note: If you order on a weekend or holiday after the above cutoff time, your ship date will be the next business day.) Overnight shipping is subject to credit card approval.

Backorders

We are usually unable to estimate when a backordered item will be available. We are a retailer, not a manufacturer, so we have no control or knowledge of the manufacturing schedule. When we run out of something, we order more from the manufacturer. If the manufacturer has the item in stock, the wait is usually less than two weeks. If the manufacturer is also out of stock, the wait can be several weeks. We can sometimes give you an estimate if you email us.
We will contact you by email if we are unable to ship any backorders within 30 days.

You may cancel backorders at any time by e-mailing us at info@hollywoodfetishwear.com
Sales: (619) 564-4435
Business Hours: Monday–Thursday 7:30 A.M. to 6:00 P.M. EST. Closed Fri, Sat and Sunday
Sales Tax Policy: HollywoodFetishwear.com does not charge sales tax outside San Diego.